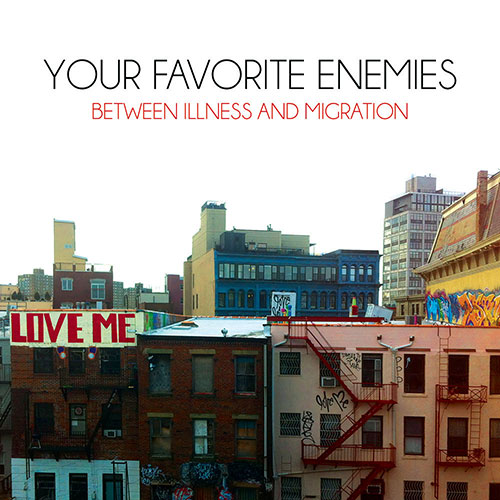 Album Information
This album was released by Hopeful Tragedy Records in Australia on September 6th, 2013. It features a unique artwork that illustrates the special relationship that Your Favorite Enemies shares with the Australian people. It also includes a bonus track that is exclusive to the Australian version of the album.
Dedicated to those willing to take a chance to define and redefine the colors of the invisible and to those envisioning to go and let go. You are the true inspiration of the voyage that is this album.
"Between Illness And Migration" is a journey we all go through, despite our nationality, culture, language, religion, sexual orientation and personal values. It's a path where faith and despair seem to be so much alike, a voyage where hope and misery are difficult to differentiate, a peregrination where redemption and desperation look all the same. It's a personal state of our heart and soul, where the darkness of broken dreams is obscuring the skyline of our bright desire to live. As much as we would like to avoid it or deny its implacable nature, we all go through this path at some point in our life.
A long awaited arrival, a hopeful departure, an inspiring destination, or the defying contemplation of the embodiment of what could be rather than the incarnation of the fatalistic essence of what should be and the elusive denial of what must be… As frightening as it might be, this is what gives birth to the evolving vision that feeds our resolution to dream it all, and all over again. From a true let go blooms a rebirth, even the most wandering of all.
Somewhere "Between Illness And Migration", may we be those willing to take a chance to define and redefine the invisible, as we are the ones who shape every single step of our own communal pilgrimage.