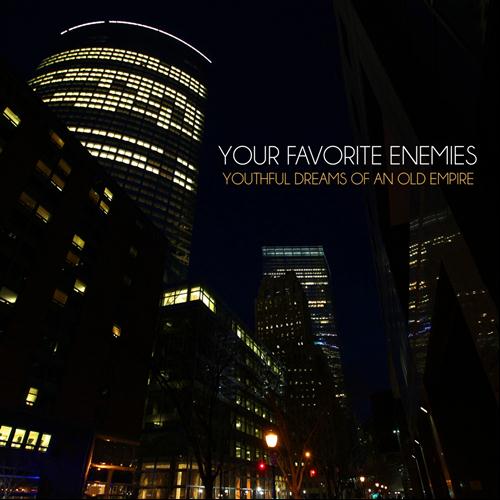 What was the inspiration behind the cover?
It's New York in January. As much as it could have been Tokyo, Paris, London, Shanghai, Sao Polo or Cairo. We were in the final stage of the mixing process of our album and I was walking on what used to be an unusually freezing night. As the cold was trying to get its grip on me, that scene (that ultimately became the "Youthful Dreams Of An Old Empire" EP cover) really struck me. It felt like the city, more than the cold itself, was trying to get a firm grip on me, in a strange static kind of motion, neon lights and other fake colors trying to simulate life in a globally acknowledged way, obscene surrender to a collective soul. We're all faceless and identical in regard of what we used to dream of and of what ultimately owns us now, as if we had lost ourselves somewhere in the process of our everlasting desire to emancipate our souls rather than being transformed. We became the building's reflection, perfectly aligned and organized to create the illusion of creative chaos, sad irony of our make-believes and other attempts to drain our untameable nature out of its vivid and imperfect embodiment for any kind of self-preservation type of false security.
As if life, the most defining incarnation of what art is truly about, became the plastic personification of who we are, the collective mirage of what used to lead us to define and redefine the colors of the invisible, of what our now tame nature considers the colors of a defying way to envision a proscribed dream.
The very dominant nature of every empire remains its resilience to impose itself to our intrinsic desire for freedom and its opposition to our willingness to take a chance at living beyond boundaries. When we let go of our fundamental fears of failing, we all start dreaming again, dreaming it all over again. And new morning shades arise before our very own eyes. We might have been blinded by neon lights, but every empire falls down, for we do not need to open our eyes to see. That's what I saw. And the time I took to contemplate that scenery, musing about the illusions of holding on and about the let go necessary in order to take a chance at living, explains the major frost bites I had when I was back in the studio that night. The guys are still convinced I stopped by the apartment of a very good friend of mine on the way to the studio… well, everyone feeds the nature of his illusions and make-believes, right 😉
Read the original interview here